A good stand mixer can be much more expensive than a low-end model. Is it worth the extra cash? There's no one right answer for everyone, of course. But if you love to cook as much as I do it would be hard to escape a resounding "Yes!"
If you're at all like me, you love the joy of being creative in the kitchen. You get a kick out of putting together ingredients and coming up with something uniquely your own. You might also enjoy the results: great tasting dishes and lots of smiles from those who are lucky enough to sample your art.
Checkout best stand mixers in India here.
But you might also be like me in another way. I'm lazy. That is, I love to work hard in the kitchen dreaming up these delicious dishes, but I don't want to struggle needlessly to execute my ideas. I don't love cleaning a hard-to-clean stand mixer or, worse, sweating blood to get it to do what I need.
So, I want a stand mixer that has numerous, flexible, easy-to-change attachments. I want it to have plenty of power to do what's required for any dish I conceive. I want lots and lots of speeds to get exactly the right blend and to minimize post-mixing clean up. I want the unit to disassemble easily to make that clean up even easier. And, of course, I want the mixer and attachments to never, ever break.
In short, I want a kitchen tool that works with me, not against me. I want my efforts to go into making the dish, not into using the tool. To get all that you usually have to spend a little more. You just can't get a super-high quality, powerful, flexible, easy-to-use stand mixer for the same price as a weak, flimsy thing that only runs at three speeds.
Personally, I'm willing to spend that little bit more because in the long run it will be so useful and so economical. A good stand mixer will last for generations, making it less expensive in the long run. It will do everything you want with ease, making it a pleasure to use all those years. It becomes a kitchen assistant who really helps, not one that makes the job harder.
Fortunately, such things are not a fantasy. There are several exceptionally fine models on the market. Check out some of the reviews on this site that describe them in detail. I think you'll quickly convince yourself that truly great stand mixers really do exist. You might also find they're not quite as expensive as you formerly believed.
Beyond the cost, though, I know that I much prefer to have a stand mixer that makes my life easier. Creative cooking is hard enough already. Why have a tool that turns joy into stress?
Cuisinart SM-55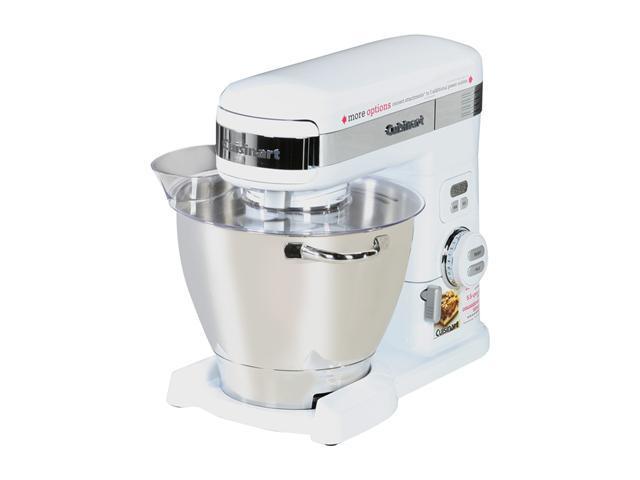 The name Cuisinart in mixers has become legendary in a relatively short time. That didn't happen just from good marketing (though no doubt that helped). It wasn't because they've simply been around for three decades. Lots of manufacturers have come and gone in that time frame. It's because they make a superb home product.
You would be hard pressed to find a better example than the Cuisinart SM-55 stand mixer. It's possible to describe the SM-55 in the most mundane way. It measures 15.5″ x 10.0″ x 12.5″. It weighs 18 pounds. It has a tilt-back head. It offers 12 speeds for mixing… Blah, blah, blah.
Sure, all those things are true. But do they get to the essence of this mixer. Not by a long shot. The truth is the SM-55 generates excitement! Hype? Nah, just sensible enthusiasm.
Powerful 800-Watt Motor
The first feature that gets this cook's juices flowing are the 800-watt power plant at the center of this mixer. How many times have you been disappointed when your mixer simply couldn't 'pull the load'? Did you want to call in your contractor to use a cement mixer on that super-thick rye bread dough your hubby loves? No need for heavy equipment in this case.
That high-powered engine doesn't imply you're going to make a total mess of the kitchen, though. Ugh, who likes clean up after a baking session? The Slow-Start feature lets the mixer ramp up to your selected speed, accelerating gradually to reduce splatter.
Add to that the ultra-gentle fold function allowing you to mix in ingredients at the lowest speed and you can make a variety of cake mixes, bread doughs, and other delights without 'bruising the batter'. Each pulse generates anywhere from 1 1/2 to 2 1/2 revolutions of the Chef's Whisk, the Flat Mixing Paddle, or the Dough Hook. You don't have to rotate the bowl; the mixer does the work for you.
Speaking of that bowl, this 5.5 quart stainless steel wonder will hold enough ingredients to mix up several dozen batches of cookies. Or, make a ton of bread dough and only fill the bowl once. Fill it with your favorite recipe for turkey stuffing and rest assured you can serve your entire extended family from just one pass. And rest assured the mixer will always get the sides.
Easy, Secure Tilt-Back Head
Now consider that tilt-back head. Yes, that's the classic design. But ask yourself why it's persisted since long before your grandmother's time. Simple. It works!
Tip the head back and slip a bowl under the SM-55. Test the securely locking head-lift release lever. Feel the smooth hinge that's stiff enough to keep the head where you place it. Slip in an attachment and experience the ease of connection combined with a tight fit. Lower the head down again and turn the mixer on. Enjoy the buzz.
That's what computer designers call "user friendliness". They didn't invent the idea. It was incorporated in a Cuisinart mixer long before modern computers got there. It's still present in the latest models.
Mix, Whip and Knead
The Chef's Whisk lets you whip up egg whites by the ton without slowing down. Make your own heavy cream. Or, use it for a meringue to die for. Whip potatoes like nobody's business. Whatever your cooking goal, this whisk will stand up to any kind of punishment for years without bending.
And, as a not exactly small side benefit, the darn thing is ultra-easy to clean afterwards, thanks to an open design and good material. I especially like that little cone-shaped metal 'guard' at the top. As a result, not only is the whisk easy to clean but so is the mixer!
The Flat Mixing Paddle can beat ingredients like crazy, too. Thick chocolate chip cookie dough is like water to this accessory. Yeasty breads surrender long before you attach the dough hook. Pie crusts, pasta dough, cake frosting, and more are super easy thanks to the shape and stiffness.
The Dough Hook is no slouch, either. Knead pizza dough until you have it to perfection or make some focaccia bread dough in no time.
Naturally, all those utensils are dishwater safe, so cleaning up afterward is much easier.
12 Speeds – 3 Power Ports
And what about those 12 speeds? Sure, lots of mixers have multiple speeds. But the Cuisinart mechanism ensures accuracy, smooth transitions, and years of reliable use. For example, snap in the whisk attachment and set the mixer on slow to stir some dry ingredients and a bit of egg. Notice how you don't get a ton of flour wafting up into your face?
Now try some of the power outlets on the SM-55 designed to hold the optional dedicated attachments. There are three in all. One high speed outlet is for a blender or food processor; the second is medium speed for a juicer; a third spins at slow speed for a meat grinder or pasta maker attachment.
Select the citrus juicer, say. Mix at medium speed and notice how you get the pulpiest, smoothest orange juice you could want. Who needs a separate blender and/or citrus juicer with something like this in the kitchen?
15-minute Countdown Timer
The 15-minute Countdown Timer is among my favorite little extras on this model. You set it and start everything going. Oops! Forgot to add something? You can interrupt the countdown with a tap. The number will flash to alert you it's in pause mode.
Now, stand back and have a little glass of wine while the mixer prepares that bread dough just right. Ok, so maybe you're the ambitious type and like to take the time to grease baking pans or prep other ingredients. To each her own!
Combine that with an auto-shutoff feature and you may actually feel a little guilty about not working harder to prepare fresh bread. The wine really helps take the edge off that guilt.
Summary
Cuisinart is a relative latecomer in the stand mixers niche compared to KitchenAid. But with the SM-55 model they are clearly looking to come on strong. The list of things to love is really long.
This stand mixer doesn't replace your cooking creativity, knowledge, or experience. But it will allow you to use those hard-earned attributes without working harder than necessary. And, you know, it doesn't hurt that this model also happens to be a really beautiful addition to the countertop. Suffice to say I really love this Cuisinart stand mixer. I think you will too.